We are a full-service veterinary hospital that offers specialty and generalized pet care. We pride ourselves on working closely with you and your pet to offer the best professional medical care available. We are a high-quality vet clinic where you and your pet will both love to visit.

Our experienced and qualified team provides services that aid in helping pets lead healthy, happy lives. Through continuing education our team stays up to date with the most recent developments within the veterinarian field, and are devoted to exercising compassion in all of our interactions. Not only do we provide quality care to your pets, but we also strive to support you as the caretaker.
Dr. Lindsey Petras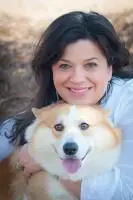 Lindsey Partridge Petras has had a life-long love for animals and has always known she wanted to become a veterinarian. She grew up in Birmingham, AL and then attended Auburn University where she graduated with honors. She lives on a farm in Springville with her family, including her husband and two daughters, four dogs, three cats, two horses, one pony, and two miniature donkeys. In her free time, Dr. Petras enjoys riding horses, cooking, gardening, reading, painting and taking care of her large family.